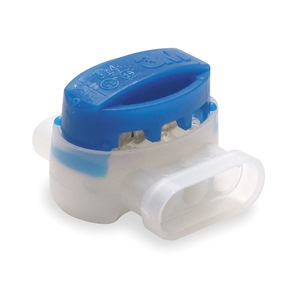 Connector, Blue, 3 Ports, 22-14AWG, PK 50
Average Rating:
n/a
$97.60
USD
+ 6 Business Day Shipping $7.15
Purchase at Amazon here:
Connector, Blue, 3 Ports, 22-14AWG, PK 50
Specs
Description
Insulation Displacement Connector, Gel Filled/ Moisture Resistant, Connector Type Single U-Element, Color Blue, Solid Wire Range 22-14 AWG, Stranded Wire Range 22-14 AWG, Max Insulation Dia 0.155 In, Number of Ports 3, Application Electrical Power, Flame Retardant, 600 Volts AC/DC, Max Temp 221 F, Material of Construction Nylon, Crimping Tool 2JLF8, Standards UL/ CSA, Package Quantity 50
Scotchlok Insulation Displacement Connectors
UL Listed (except 4YT50, 4FE27, and 4FE28) and CSA Certified.
Butt Splices
Squeeze-shut connectors eliminate stripping and twisting. Insulated connection is sealant-filled with a mineral oil-based grease and flame retardant, to provide a moisture-resistant seal.