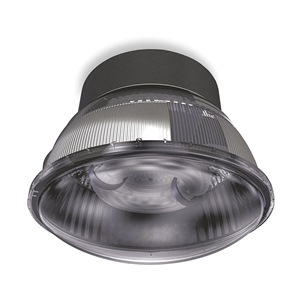 Garage, Fixture, Induction, 80 W, 120 V
Average Rating:
n/a
$1,139.50
USD
+ This item ships directly from the manufacturer within 10 business days. Please allow additional time for delivery.
Specs
Description
Garage, Induction Fixture Type, 80W IL Lamp Type, 80 Fixture Wattage, 120 Voltage, Type III Light Distribution, Description/Special Features Two-Piece Aluminum Reflector, Upper Section Removes To Make Uplight For Illuminating Ceiling, Center Reflector To Reduce Glare From Driver's Line Of Sight, Min. Starting Temp. (F) -40, Easy Hang Bracket Fits 4 In. Electrical Box Mounting, Die Cast Aluminum Housing Material, Architectural Bronze Polyester Powder Paint Housing Finish
Restrictions
California Proposition 65 Warning: This product contains a chemical known to the State of California to cause cancer. Warning: This product contains a chemical known to the State of California to cause birth defects or other reproductive harm.
Induction Fixtures
Instant-on fixtures can have a hot re-strike, and produce crisp white light with true color rendering indoors and out, even at low temperatures. Their long lamp life and high energy efficiency are excellent for sustainability initiatives, and also help reduce energy and maintenance costs. These fixtures are useful for parking garages, warehouses, exhibition halls, and other locations where lamp replacement is difficult or expensive. Induction lamps generate light by transmitting energy through a magnetic field and combining it with a gas discharge. They have a stable output over a wide range of input voltages because they use no filaments or electrodes which impede performance and longevity.
100,000-hr. rated life Lamps included
Garage
2-pc. aluminum reflector allows uplighting and reduces glare. Easy-hang bracket fits 4" electrical box. Architectural bronze polyester powder-coated finish.