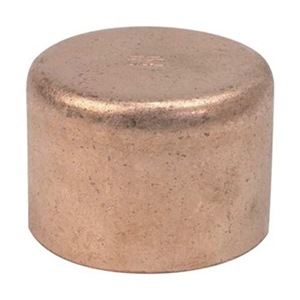 Cap, 1/4 In, Copper, OD 3/8"
Average Rating:
n/a
$1.09
USD
+ 6 Business Day Shipping $7.15
Specs
Description
Wrot Copper Fittings
99.9% pure copper, seamless tubing forms a permanent, leaktight connection and resists corrosion and scaling. Ideal for drinking water, air conditioning, and refrigeration applications.
Meet ASTM B75 Alloy C12200 and ASME/ANSI B16:22 standards.
Max. pressure, 1/4 to 1" O. D. : 500 psi
Max. pressure, 1-1/4 to 2" O. D. : 400 psi
Max. pressure, 2-1/2 to 3" O. D. : 300 psi
Max. pressure, 4" O. D. : 200 psi
Temp. range: -200° to 250°F
Cap, Nominal Size 1/4 In., Outside Dia. (In.) 3/8, Connection Female Solder Cup (C x C), Pressure (PSI) 775, Temp. Range -20 to 400, Material of Construction Wrot Copper, Standards ASME B16.22, Compliance NSF-61, Certification ISO 9001 Registered Facility