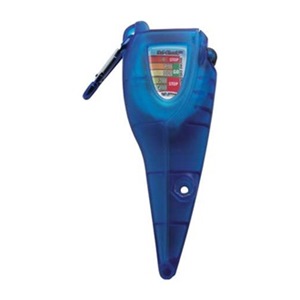 Chlorine Tester with Thermometer
SFC1200CLGR
1406025
Average Rating:
n/a
$28.96
+ 3 Business Day Shipping $7.15
Specs
Description
Chlorine Tester with Thermometer, Dimensions 6 In. x 2 1/2 In. x 1 In., Material Plastic, Includes 1 Saf-Check, (1) 15' Test strip roll, 1 detachable carabiner and pocket clip
SAF-CHECK Sanitizer Measurements
All-in-one system keeps thermometer and sanitizer test11 strips together and handy. Allows for easier and more-frequent temperature and sanitizer strength checks. 6CAK4 and 6CAK5 include one 15-ft. test11 strip roll, detachable carabiner, and pocket clip. 6CAK6 and 6CAK7 include two 15-ft. test11 strip rolls.