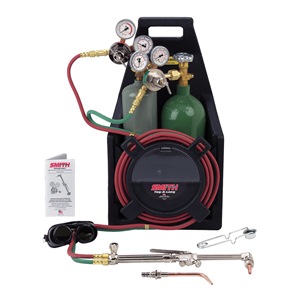 Average Rating:
n/a
$870.22
USD
+ 3 Business Day Shipping $32.50
Specs
Description
Tag-A-Long Outfit With Tanks, Acetylene, Includes CW5A Torch Handle, CC509P Cutting Attachment, MC12-0 Cutting Tip, MW205 Welding/Brazing Tip, 30-100-540 Oxygen Regulator, 30-15-200 Fuel Regulator, Lighter, Goggles, 12.5 ft x 3/16 In Twin hose, Polyethylene Carrier, R 20 cu. Ft. Oxygen Cylinder, MC 10 cu. Ft. Acetylene Cylinder, Check Valves
Restrictions
California Proposition 65 Warning: This product contains a chemical known to the State of California to cause cancer.
Cutting, Welding, and Brazing Outfits
Tag-A-Long
Portable and lightweight. Feature Series 30 regulators and reverse-flow check valves. Include 12-1/2-ft. x 3/16" twin hose, goggles, lighter, and HDPE carrier with hose wrap. 6GJG1 includes 20-cu.-ft. oxygen cylinder and 10-cu.-ft. acetylene cylinder. 2CZK4 does not include cylinders.
Cut up to 3/8" (6" with optional tips) Weld up to 1/8" (1/2" with optional tips)