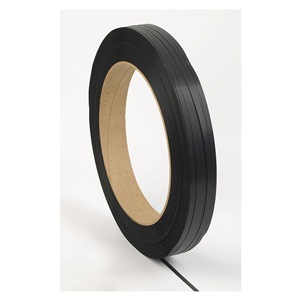 Strapping, 7200 ft. L, Polypropylene
Average Rating:
n/a
$78.19
USD
+ 6 Business Day Shipping $24.70
Purchase at Amazon here:
Strapping, 7200 ft. L, Polypropylene
Specs
Description
Plastic Strapping, Polypropylene, Embossed Finish, Strap Width 1/2 In., Length 7200 ft., Thickness 26 mil, Coil Width 8 In., Core Dia. 8 In., Break Strength 500 lb., Color Black, Application Hand Grade, For Use With Hand Tools and Wire Buckles
Polypropylene Strapping
Hand Grade Plastic Strapping
Can be sealed with strapping seals, heat welds, or friction welds. High break-strength strapping should be used with larger and heavier loads. Feature high elongation and recovery. Recyclable.
Smooth strapping features a uniform surface for reliable performance to enhance split resistance in machines and with hand tools. Embossed strapping has a textured pattern to improve stiffness, and increase joint efficiency. 200-, 300-, 330-ft. mini coils are dispensed from a carton and do not have a core.