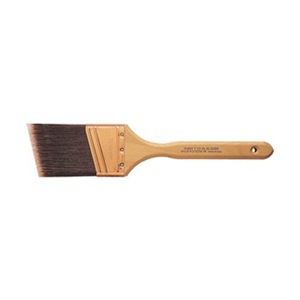 Average Rating:
n/a
$28.61
USD
+ 6 Business Day Shipping $7.15
Purchase at Amazon here:
Paint Brush, 2in.
Specs
Description
Paint Brush, Angle Sash, Size 2 In., Brush Length 2-15/16 In., Overall Length 12-1/8 In., Thickness 9/16 In., Natural Handle Color, Paint Type All Exterior, All Interior Flat, Low VOC Paints, Oil Enamels, Nylon/Polyester Brush Material, Stainless Steel Ferrule Material, Natural Hardwood Handle Material
Restrictions
California Proposition 65 Warning: This product contains a chemical known to the State of California to cause birth defects or other reproductive harm.
PRO-EXTRA Series
Premium Professional Paintbrushes
Bristles are a combination of Tynex nylon for paint flow, Chinex for quick cleanup, and Orel polyester for stiffness retention. Extra filament length and thickness provide longer wear and greater paint holding capacity. Natural hardwood handle; Glide have a fluted handle and Sprig has a beavertail handle. Stainless steel ferrule.
Each brush is handcrafted for maximum performance.