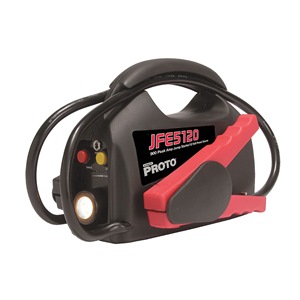 Average Rating:
n/a
$138.14
USD
+ 6 Business Day Shipping $13.65
Specs
Description
Jumpstart, Automotive, 250 Cranking Amps, 9 Cold Crank Amps, 900 Amps, 9 Amp Hours, 900 Peak Amps, Avg. Charge Time 12V High 12V Output, Lead Size 12, AC Cord 7.25, Input 7.5, Overall Width Jump Starting, Overall Height #4 AWG, Overall Depth 27, Jump Starting, Cable Gauge #4 AWG, Cable Length 27 In., Test Feature Jump Starter, Wall Charger, Includes Jump Starter, Wall Charger
Portable 12VDC Power Sources
Rechargeable cordless units have On/Off switch and reverse polarity indicator for safety. AC adapter allows charging from any standard 120V/60 Hz outlet. Safety storage compartment prevents clamps from making unwanted contact. Powers spotlights, air compressors, radios, TVs, cellular phones, coolers, and car vacs.
Charge level lights Heavy-duty cables and clamps grip to top or side terminals
6RKL4
7.5A-input wall charger can also be used to jump-start auto batteries.