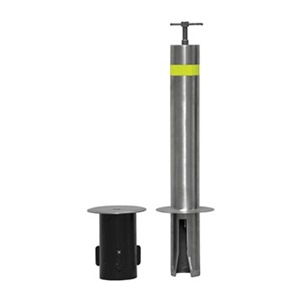 Average Rating:
n/a
$3,031.78
USD
+ This item ships directly from the manufacturer within 7 business days. Please allow additional time for delivery.
Purchase at Amazon here:
Extractable Bollard S/S
Specs
Description
Bollard Post, Extractable, Construction Stainless Steel, Dia. 3-1/2, Height 19-3/4 In., Thickness 5mm, Color Gray, Installation Depth 19 x 7 In., Operation Manual, Impact Resistance 100.000 Jules, Includes Reflective Band, 1 Key and Extractable Base
Extractable Bollard Posts
Bollard Dancer and Posts
User can remove bollard from base and cover it with a round tape to allow transit.
Provide controlled access to pedestrian areas such as streets, parking lots, zoos, and museums. Protect consulates, military installations, police headquarters, and luxury shops from vandalism and help protect domestic areas such as homes, garages, and sport centers. 6XUW9 and 6XUX0 are made of cast-steel. All others are made of anticorrosive stainless steel and are resistant to collisions and atmospheric corrosion.