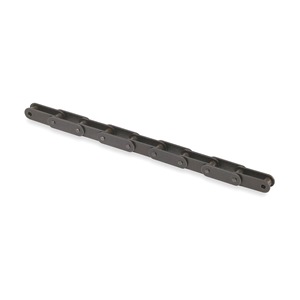 Average Rating:
n/a
$348.02
USD
+ 6 Business Day Shipping $17.55
Purchase at Amazon here:
Chain, Roller
Specs
Description
Conveyor Roller Chain, ANSI Chain Size C2080H, Pitch 2 Inches, Breaking Strength 15, 400 Pounds, Maximum Allowable Load 2, 400 Pounds, Rivet End to Center Line (L2) 0.823 Inches, Connecting End to Center Line 0.720 Inches, Diameter 0.625 Inches, Overall Width (L1+L2) 1.543 Inches, Width 5/8 Inches, Standard Single Riveted Steel, Includes One Extra Connecting Link For Each 10 Feet Chain Length
Roller Chain and Individual Links
Hardened carbon steel construction. Fully interchangeable with other ANSI roller chains. Factory preloading, lube-grooved bushings, and prelubrication minimize wear elongation. 1 connecting link included for every 10 ft. of chain.
Meet or exceed all ANSI requirements.