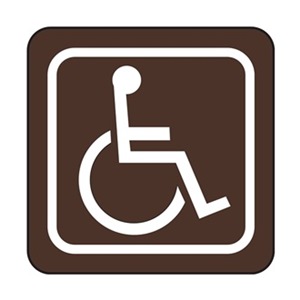 Handicap Sign, 3 x 3In, WHT/BR, ACRYL, SYM
UVOS1036
1617565
Average Rating:
5
$11.76
+ 3 Business Day Shipping $7.15
Specs
Description
Handicap Sign, Wheelchair Symbol, SymbolPlastic, Mounting Style Surface, Height 3 In., Width 3 In., White/Brown
Customer Reviews
Average Product Rating:
5
based on 1 reviews
United Visual Products UVOS1036 Handicap Sign, 3 x 3In, WHT/BR, ACRYL, SYM
Put These on the End of Our Church Pews
Wednesday, March 13, 2013
This was hard to find, but just what we needed. The 3x3" size was just right for the end of our church pews that we cut shorter for wheelchairs. The chocolate brown background color blended in well, but the sign was still very noticeable.
Submitted by

Lyle from Ohio