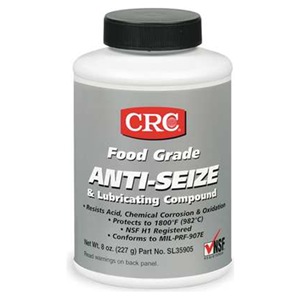 Food Grade Anti-Seize, Brush Top, 8 oz
Average Rating:
n/a
$22.24
USD
+ 6 Business Day Shipping $7.15
Specs
Description
Food Grade Anti-Seize Lubricant, Brush Top Bottle, 8 oz., Size/Net Weight (Oz.) 8, Temp. Range (F) - 65 to 1800, Flash Point (F) Greater Than 400, Specific Gravity 1.17 @25C, Contains Aluminum Complex, Film Type Paste, Use To Protect And Lubricate Food Processing And Handling Equipment, Non-Staining, Odorless, Tasteless, Contains No Metals, Standards NSF H1
Restrictions
This item has been restricted from sale in the following countries: Canada, Colombia, Hong Kong, Japan, Taiwan
Lubricants
CRC
Food-Grade Anti-Seize Lubricant
Nonstaining, odorless, tasteless compound lubricates metal parts and protects against seizure, galling, rust, corrosion and heat freeze. Contains no metals.