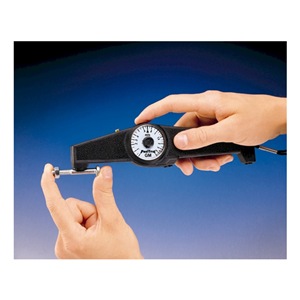 PosiTest FM Scale Coating Thickness Gage
Average Rating:
5
$350.00
USD
Free 7-9 Business Day Shipping
Purchase at Amazon here:
PosiTest FM Scale Coating Thickness Gage
Specs
Description
The DeFelsko PosiTest FM is a magnetic pull-off thickness gage used for the non-destructive measurement of hot dip galvanizing, hard chrome metalizing, paint, enamel, and plastic coatings on steel. Imperial FM scale ranges from 0-80 mils.

Features a highly wear resistant carbide probe for long life and continued accuracy and V-grooves on the probe housing and gauge base to allow for correct positioning on cylindrical objects. The extra rugged gauge housing is not affected by mechanical shock, water, acid or solvents. Unique overall gage design keeps it fully supported with positive positioning, no pivoting tendencies during measurement. Can be used fully supported or with only the front probe area contacting the surface. Functions on a permanent rare-earth cobalt magnet, no battery. Includes wrist strap and instructions in a high quality leather case with belt loops and 2 year manufacturer's warranty.
Customer Reviews
Average Product Rating:
5
based on 1 reviews
DeFelsko PosiTest FM PosiTest FM Scale Coating Thickness Gage
Easy to Use
Thursday, November 08, 2012
Good product and arrived quickly.
Submitted by

Chase M