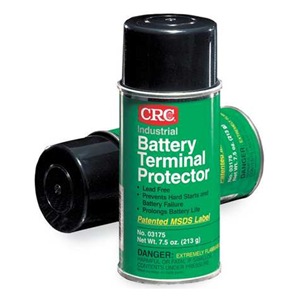 Average Rating:
n/a
$20.63
USD
+ 6 Business Day Shipping $7.15
Purchase at Amazon here:
Terminal Protector
Specs
Description
Battery Terminal Protector, Net Weight 7.5 Ounces, Protects Battery Terminal From Corrosion
Restrictions
Hazardous Material
This item has been restricted from sale in the following countries: Canada, Colombia, Hong Kong, Japan, Taiwan
California Proposition 65 Warning: This product contains a chemical known to the State of California to cause cancer.
Rust and Corrosion Protectants
CRC Battery Terminal Protector
Keeps moisture, salts, and road grime from corroding metal contacts. Dries quickly. Enhances battery life and power by preventing corrosion-related leakage.