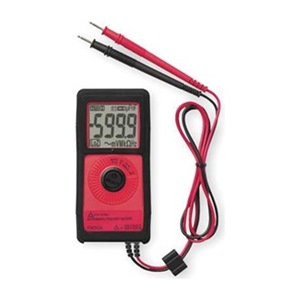 Pocket Digital Multimeter, 600V, 6 MOhms
Average Rating:
n/a
$89.47
USD
+ 3 Business Day Shipping $7.15
Specs
Description
Pocket Digital Multimeter, Max. AC Volts 600, Max. DC Volts 600, Max. AC Amps 2000uA, Max. DC Amps 2000uA, Max. Ohms 6 M Ohms, Basic DC Accuracy +/-0.8 Percent + 3 Digits, Counts 6000, Battery Type 3V Lithium, Safety Rating CAT III 300V, CAT II 600V, Audible Continuity Yes, AC Response Average, Capacitance Range 100nF to 2000uF, Frequency Counter Range 10 Hz to 30 kHzIncludes Voltect
Pocket Digital Multimeters
Amprobe
1WKN3 and 1WKN5
3/8"-thick meters display large digits with icons. Autoranging. Attached test11 leads for convenience. 1WKN5 automatically selects resistance or AC or DC voltage. Provides noncontact AC voltage detection. Lower input impedance zeros out ghost voltages. With silicone holster and carrying case.
Each includes test11 leads and batteries.