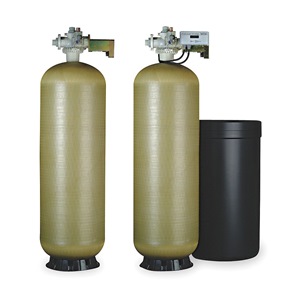 Water Softener, Service Flow Rate 80 GPM
Average Rating:
n/a
$8,799.12
USD
+ This item ships directly from the manufacturer within 11 business days. Please allow additional time for delivery.
Specs
Description
Water Softener, Demand Initiated Regeneration, Service Flow Rate 80 GPM, Salt Storage Capacity 1000 Lb., Pipe Size 2 In., Height 73 In., Width 78 In., Depth 24 In., Meter Range 0-1000 GPM, Tank Type Two Tank, Fiberglass Resin Tank Material, Counter Current Regeneration Distributor Type, Days Between Regeneration On Demand, Brine Tanks 1
Restrictions
Note: We recommend that your water be analyzed before selecting water treatment equipment.
High-Flow/High-Capacity
Water Softeners
Quartz underbedding and display is selectable for parallel, parallel delayed, alternating, and peak flow demand. Duplex and triplex models may allow 24-hr. service with no regeneration down time, but flow rate will be reduced. Some assembly required.
Ion exchange technology removes hard minerals from the water supply. Unique controller technology monitors water use for-demand-based regeneration, ensuring soft water is always available and minimizing salt usage. Resin tank design and regeneration flow path assure maximum tank efficiency.