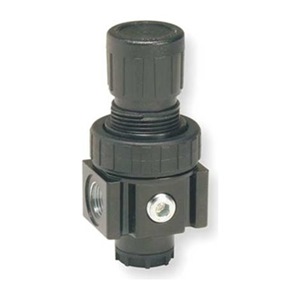 Air Regulator, 1/4 In. NPT, 40 cfm, 300 psi
Average Rating:
n/a
$44.42
USD
+ 3 Business Day Shipping $7.80
Specs
Description
Regulator, Component Design Type, Sub Compact 12 Series, NPT 1/4 In, CFM 40, Max Pressure 250 PSI, Max Temp 175 F, Height 4.44 In, Width 2 In, Adjustment Range 0 to 125 PSI, Bowl/Adjustment Knob Type Non Rising, Gauge Port Size 1/4
General-Purpose Regulators
WARNING: Do not connect regulator to bottled gas. Wilkerson Accuracy: 1 psi 2-gauge ports can be used as additional regulated outlet ports. Can be serviced without removal from air line. Dial regulators feature a transparent, pressure-calibrated, nonrising adjustment dial for quick adjustment of secondary pressure, 1 psi. Can be mounted in any position so dial face is always visible. Parker Suitable for use where regulators are not easily accessible. Can be controlled remotely via a small pilot regulator. Ideal for use in applications requiring a constant pressure with variable flow rate.