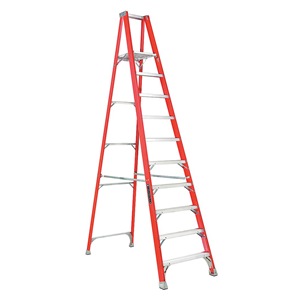 Platform Stepladder, 12 ft. H, 16 In. W
Average Rating:
n/a
$490.35
USD
+ 6 Business Day Shipping $42.25
Purchase at Amazon here:
Platform Stepladder, 12 ft. H, 16 In. W
Specs
Description
Platform Stepladder, Ladder Height 12 ft., Platform Width 16 In.Platform Height 10 ft., Load Capacity 300 lb., Bottom Width 37-1/8 In., Base Spread 92 In., Material Fiberglass, Series FP1500, Number of Steps 10, Step Depth 3 In., Tread Nonslip, ANSI Type IA, Includes The Model/Duty Rating Label and Instruction Labels
Restrictions
Note: Platform ladders overall height is 2 ft. higher than platform height.
Louisville FP1400HD and FP1500 Series
Platform Stepladders
Fiberglass
Features slip-resistant DaBoot rail-protective shoes, reinforced steps, and SHOX impact deflection system to help protect against impact abuse.
Provide large work area with a safety guardrail.