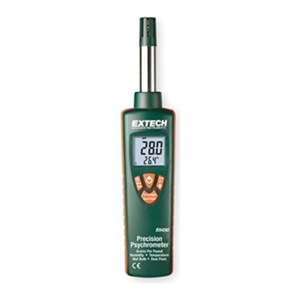 Temp/Humdty Meter, 0 to 100% Rel Hum Rnge
Average Rating:
n/a
$472.24
USD
+ 3 Business Day Shipping $7.80
Specs
Description
Temperature Humidity Meter0 to 100 Percent Relative Humidity Range, +/-2 Percent Humidity Accuracy, -22 Degrees to 199 Degrees F Temp. Range (F), +/-1.8 Degrees F Temp. Accuracy (F), 32 Degrees to 176 Degrees F Wet Bulb Temperature Range, -22 Degrees to 199 Degrees F Dew Point Range0.1 Percent Humidity ResolutionDisplay Dual LCDMemory Min/Max, Battery Type 9V, Auto Power Off Yes, Data Hold Yes, Response Time Less Than 30 sec.
Sling and Fixed-Probe Temperature/Humidity Meters
(G) Precision Temperature/Humidity with GPP
Built-in probe measures grains per pound (GPP) for quick assessment of air moisture content. Dual LCD. Feature min./max. memory, data hold, and Auto-Off. Include case and 9V battery.
Thermometers/Psychrometers