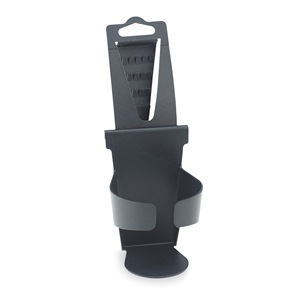 Average Rating:
5
$3.63
USD
+ 6 Business Day Shipping $7.15
Specs
Description
Drink Holder, Color Black, Material Polypropylene, Holds 12 to 16 oz. Drinks, For Use With Automobiles
Interior Accessories
Automotive accessories conveniently keep vehicle clean, organized, and free of clutter. 1EYY4 can be used for cars, extended cab trucks, SUVs, vans, and RVs; 1EZF9 is for GM and Toyota; 1EZG2 is for Chrysler, GM, and Honda; 1EZG3 is for Chrysler, Ford, and Honda; and 1EZG4 for GM and Saturn. All other items for use with all automobiles.
Customer Reviews
Average Product Rating:
5
based on 1 reviews
Bell 05585-8 Drink Holder, Black
Bell car cup holder accessory
Tuesday, April 05, 2011
It has a flexible back which lets it fit over a variety of car doors. Stays put when you roll the window up or down. Best cup holder in the world!
Maybe offer a few different sizes. This one is perfect for my oversize coffee mug but a bit too big to hold a small McDonald's coffee. Otherwise, great product.
Submitted by

Matt V