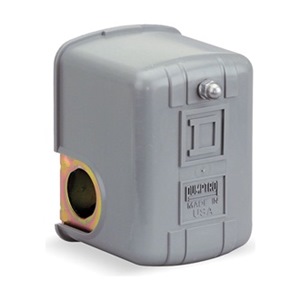 Pressure Switch, 10-5PSI, 1Port, DPST, 10A
9013FRG22J36
44187
Average Rating:
5
$56.99
+ 3 Business Day Shipping $7.15
Specs
Description
Pressure Switch, Water Pump, Reverse Action, Factory On/Off Set 10 to 5 PSI, Pressure Range 4 to 45 PSI, Adjustable Differential, Differential Pressure 6 to 20 PSI, Burst Pressure 300 PSI, Port Type 1-Port 1/4 In NPS (Female), Diaphragm Actuation Type, Single/Three Phase, DPST Contact Type, 10 Amps, NEMA 1 Enclosure, Temp Range -22 to 257 F, Standards UL/CSA
Pumptrol Water Pump Pressure Switches
Designed for direct control of electrically driven pumps. Can be used with motor starters to control higher horsepower motors. Temp. range: -22 to 257 F.
UL Listed and CSA Certified. NSF 61 Annex G and NSF 372 Certifications. NSF 372 on 9013G NSF 61 Annex G on 9013FSG.
1
and 2-pole, HP Rated 1/4" female connection Diaphragm actuated Standard action contacts open on rising pressure Reverse action contacts open on falling pressure NEMA 1 enclosure
Customer Reviews
Average Product Rating:
5
based on 2 reviews
Square D 9013FRG22J36 Pressure Switch, 10-5PSI, 1Port, DPST, 10A
Good Parts
Tuesday, January 31, 2012
Just what I needed for my ice maker.
Good fit, works perfectly
Submitted by

Jim
Square D 9013FRG22J36 Pressure Switch, 10-5PSI, 1Port, DPST, 10A
Excellent Pays For Itself Immediately
Monday, August 10, 2009
Saves Polaris Pool Cleaner Pumps. This switch installed in a polaris pump circuit will prevent the pump from running dry and burning up. It's much cheaper and easier than replacing just one pump motor. Drillspot delivers them unbelievably fast.
Works Great Easy to Install
Submitted by

Byron