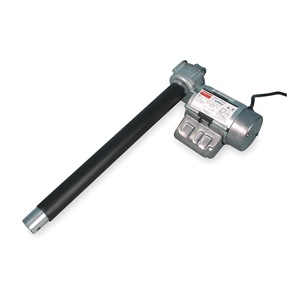 Linear Actuator, 115VAC, 400 Lb Load
Average Rating:
5
$421.77
USD
+ 6 Business Day Shipping $15.60
Specs
Description
Linear Actuator, Rated Load 400 Lb, Voltage 115VAC, 1.4 Full Load Amps, Retracted Dimension 20 In, Travel 12 In, Continuous Duty Travel 84 In, Speed 8.4 In/Minute, Duty Cycle 25 %, Operating Frequency 60 Hz, Ambient Temp Max 40C/104F, Totally Enclosed Nonventilated, Permanent Split Capacitor Motor Type, Auto Reset Thermal Protection, Capacitor Included
AC Induction Linear Actuators
Internal, adjustable limit switches provide user control in positioning applications. Single-lead, rolled-thread lifting screw provides long life and smooth operation. Built-in worm gear is set for quiet gear reduction. Single right-hand Acme screws. Outer tube protects screw and nut from dust. Capacitor included.
UL Recognized (E47479, E37403) and CSA Certified.
Linear motion: 10" to 12"; can be modified to shorter stroke lengths 115VAC, 60-Hz PSC motors with auto-reset thermal protection To provide additional stroke modification, remove outer and translator tubes and replace with included driver nut
Customer Reviews
Average Product Rating:
5
based on 2 reviews
Dayton 1XFX9 Linear Actuator, 115VAC, 400 Lb Load
Fast
Wednesday, June 20, 2012
We recieved the Actuator in just a few days from the time we ordered. No problems with the unit.
Easy to install
Lower price?
Submitted by

Mark
Dayton 1XFX9 Linear Actuator, 115VAC, 400 Lb Load
Good Product; Fast Delivery
Monday, May 02, 2011
This is a nice linear actuator. I was replacing an old one and Drillspot worked with me to make sure I got one that would be plug and play. And it was delivered next day.
Submitted by

Tim