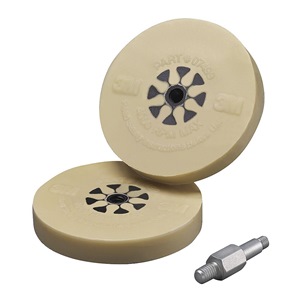 Stripe Off Wheel, 4 In Diax5/8 Tx3/8-16
Average Rating:
n/a
$67.62
USD
+ 6 Business Day Shipping $7.15
Specs
Description
Stripe Off Wheel, Foam With 3/8 In. MandrelDiameter 4 In., Thickness 5/8 In., Mounting Type Threaded Mandrel, Mounting Size 3/8 In.-16 Internal ThreadMax. RPM 4000, For Removing Vinyl, Decals, Graphics and Double Sided Molding Striping and Trim
Restrictions
Note: Not for use on lacquer coatings.
Stripe, Molding, and Emblem Removal Tools
Stripe Off Wheel
Quickly removes double-sided foam tape as well as decals and striping tape.