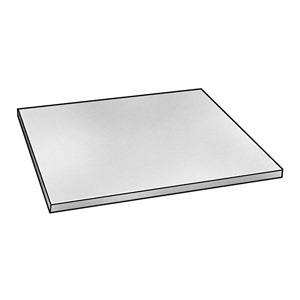 Sheet, HDPE, Black, 3/16 In T, 12 x 12 In
Average Rating:
5
$4.37
USD
+ 6 Business Day Shipping $7.15
Purchase at Amazon here:
Sheet, HDPE, Black, 3/16 In T, 12 x 12 In
Specs
Description
Sheet Stock, Corrosion Resistant, HDPE, Black Color, Thickness (Decimal) 0.188 In, Width 12 In, Length 12 In, Thickness Tolerance +/-0.009 In, Width Tolerance +/-0.125 In, Length Tolerance +/-0.125 In, Min Temp Rating -58 Deg F, Max Temp 194 F, Tensile Strength 4000 PSI, Impact Strength 1.3 Lbs, Standards FDA, USDA
HDPE (High-Density Polyethylene) Sheets and Round Rods
Standard
Easy-to-weld material has good insulating properties, good electrical/dielectric properties, and retains its toughness at low temperatures. Low steam permeability.
For use in pumps, valves, and in the medical and sewage industries.
Food contact grade-off white is FDA and USDA compliant.
Continuous use temp.: 194 F Heat deflection temp.: 266 F
Tensile strength: 4000 psi Impact strength: 1.3 lb.
Customer Reviews
Average Product Rating:
5
based on 1 reviews
Approved Vendor 1ZAU7 Sheet, HDPE, Black, 3/16 In T, 12 x 12 In
HDPE Priced Correctly
Monday, June 27, 2011
Outside dimension were square but slightly under 12". Finish was good but scratched (as they always are). There was a slight bend to the sheet (also common) but a little heat and re-bend will flatten it out if needed. HDPE sheet should not be as expensive as they tend to be and this is the best priced for a shipped sheet I could find. Shipped very quickly from Drillspot's "partner" business.
High quality, low price and fast shipping.
Submitted by

retro.joe