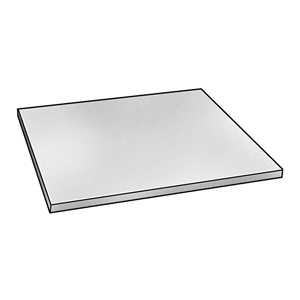 Sheet, Poly, Clear, 0.093 In T, 12 x 12 In
Average Rating:
5
$5.69
USD
+ 6 Business Day Shipping $7.15
Specs
Description
Sheet Stock, General Purpose, Polycarbonate, Clear Color, Thickness (Decimal) 0.093 In, Width 12 In, Length 12 In, Thickness Tolerance +/-0.005 In, Width Tolerance +0.060/-0.000 In, Length Tolerance +0.060/-0.000 In, Min Temp Rating -211 Deg F, Max Temp 180 F, Tensile Strength 9, 000 PSI
Restrictions
Note: Bulk quantities available on DrillSpot.com for 1ETT7, 1ETT8, 1ETT9 search for "polycarbonate sheets".
Standard and Abrasion-Resistant
Naturally transparent, crystal-clear sheets have excellent aesthetic properties, high impact strength, and good formability. Used in security, injection molding, and sheet/film applications, including lenses, compact discs, visors, and instrument panels.
Lexan Polycarbonate General-Purpose Film and Sheets
Sheets
Tensile strength: 9000 psi Continuous use temp.: 180 F
Customer Reviews
Average Product Rating:
5
based on 1 reviews
Lexan GRA0112001002 Sheet, Poly, Clear, 0.093 In T, 12 x 12 In
Great product, great price, great delivery time
Tuesday, October 30, 2012
It was exactly what I needed at significantly less cost than I had seen elsewhere.
Submitted by

Lynn Q