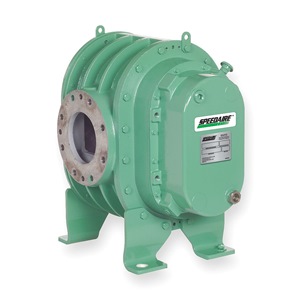 Blower/Vacuum Pump, 0.367 cu ft/Rev
Average Rating:
n/a
$8,445.50
USD
+ This item ships directly from the manufacturer within 19 business days. Please allow additional time for delivery.
Specs
Description
Positive Displacement Blower/Vacuum Pump, Inlet Dia. 4 In. (F)NPT, Outlet Dia. 4 In. (F)NPT, Displacement 0.367 cu. ft./rev., CFM Range 278 to 682, RPM Range 764 to 2050, Max. Pressure 15 psi, Max. Vacuum 16.0 In. Hg, 6 to 53.5 HP Required, Shaft Length 3.19 In., Shaft Dia. 1.562 In., Keyway Width 0.375 In., Keyway Length 2.50 In., Overall Width 21.125 In., Overall Height 25.5 In., Overall Depth 19.375 In., ISO 9001 Standards
Positive Displacement Blowers and Vacuum Pumps
Drop-in replacements for various roots-type blowers and vacuum pumps. Used in various industrial applications such as pneumatic conveying, wastewater treatment, surface cleaning, and dairy milking. Handle continuous loads. Alloy steel timing gears assure nonslip timing. High-strength drive shaft provides greater blower durability and installation flexibility. High-strength cylinder with heat-dissipating fins for reduced noise and vibration. High-temperature seals provide leak-free operation in severe-duty applications. Blowers are available in horizontal and vertical configurations.