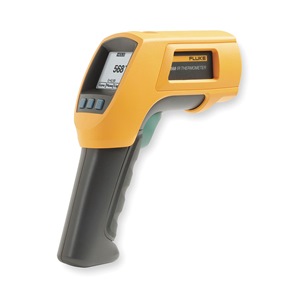 Average Rating:
n/a
$485.29
USD
+ 3 Business Day Shipping $7.15
Specs
Description
Infrared Thermometer, Temp. Range (F) -40 Degrees to 1472 Degrees F, Temp. Range (C) -40 Degrees to 800 Degrees C, Focus Spot Size and Distance 1 In. @ 50 In., Accuracy 32 Degrees F +/-2 Degrees F or +/-1 Percent, Emissivity Adjustable 0.10 to 1.00, Laser Sighting Single Dot, Battery Type (2) AA, Data Logging 99 Points, Alarm High/LowData Hold Yes, Display Dot Matrix LCD, Resolution 0.1 Degrees C, Spectral Response 8 to 14 uM, Response Time 500 msec., Repeatability +/-0.5 Percent
Noncontact Thermometers
Fluke 566/568
Bright laser provides precise targeting.
-40 to 1470 F Noncontact and contact measurement Continuous trending and data logging Hard case for max. protection
Noncontact Thermometers and Calibrators
Broad line of noncontact temperature measurement products provides accurate readings in hard-to-reach and hazardous locations for front-line troubleshooting and preventive maintenance in industrial, HVAC, and electrical applications. NIST Certified models include "NIST" in Mfr. Model.