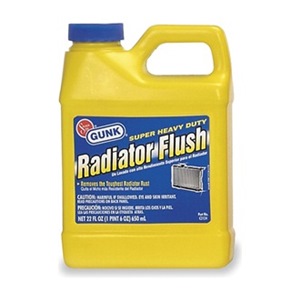 Radiator Flush, HD, 22 Oz
C2124
505133
Average Rating:
5
$6.56
+ 3 Business Day Shipping $7.59
Specs
Description
Radiator Flush, Heavy Duty, Container Size 22 Oz, Yellow, Plastic Bottle, Translucent, 4.5 to 6.0 pH, Boiling Point 212 F, Freezing Point Less Than 0 F, 1.09 Specific Gravity, VOC Content 4.20%, Dissolves In Water, For Use With All Radiators
Restrictions
California Proposition 65 Warning: This product contains a chemical known to the State of California to cause birth defects or other reproductive harm.
Customer Reviews
Average Product Rating:
5
based on 1 reviews
Gunk C2124 Radiator Flush, HD, 22 Oz
Gunk radiator flush
Monday, September 20, 2010
much better than the other flush on the market. It took little longer than acid flush but I use two flush at the same time and came out like new. all the dirt/rust are gone.
It does the Job.
I use other brand that could pick up at part store none of them work.
Submitted by

Alexander L