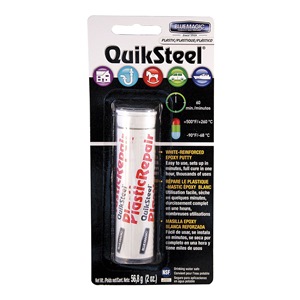 Plastic Epoxy Putty, Tube, 2 Oz
16502
514513
Average Rating:
n/a
$7.54
+ 3 Business Day Shipping $7.15
Specs
Description
Plastic Epoxy Putty, Tube, Size 2 oz., Practical Square Feet -, Flash Point (F) -, Dry Time (Hours) -, Dry Time Recoat (Hours) -, Dry Time Tack Free (Hours) 1, Traffic Hours -, 5 min. Setting Time, Functional Cure (Hours) 1, Adheres To Plastics and Fiberglass, For Vehicle Repair, For Use With -, Fast Drying, Paintable, Sandable and Drillable, Color White, Yield Strength -, Meets -, Includes -
Sealing, Coating, and Repair Fluids
QuikSteel Epoxy Putty
Bonds to metal, plastics, glass, fiberglass, wood, brick, and ceramics. Withstands temperature up to 500 F.