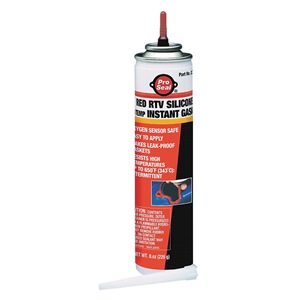 RTV Silicone Red Instant Gasket
Average Rating:
n/a
$24.60
USD
+ 6 Business Day Shipping $7.15
Purchase at Amazon here:
RTV Silicone Red Instant Gasket
Specs
Description
RTV Silicone Instant Gasket, High Temperature, 7.25 Oz Power Can, Red, Temp Range -70 to 650 F, Specific Gravity 1.04, Viscosity Paste, Flash Point Greater Than 250 F, Functional Cure 24 Hours, Application Time 10 Min, Substrates Metal, Forms Flexible And Crack Resistant Seal, High Temperature, Replaces Pre Cut Gaskets For A Reliable Seal On Exhaust Manifolds, Timing Chain Covers, And Most Other High Temperature Applications.
Gasket Sealants
Low-VOC
Low-solvent formulations release significantly fewer harmful vapors than standard adhesives. For rigid or flexible flanges.