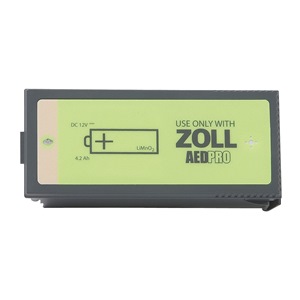 Non Rechargeable Battery Pack, AED Pro
Average Rating:
n/a
$330.67
USD
+ This item ships directly from the manufacturer within 16 business days. Please allow additional time for delivery.
Purchase at Amazon here:
Non Rechargeable Battery Pack, AED Pro
Specs
Description
Non Rechargeable Battery PackVoltage 12
Automated External Defibrillators (AEDs)
Full-rescue AEDs provide Real CPR Help for rate and depth of chest compressions during CPR. Voice prompts and easy-to-follow graphics guide the rescuer through the complete Chain of Survival, starting with checking responsiveness and ending with CPR compressions. AED units with PlusTrac provide a third-party web-based service that ensures the AED is properly maintained and has all necessary components. Acts as a resource for employees and ensures compliance with Good Samaritan laws. The PlusTrac system includes medical direction with prescription, emergency response plan, dedicated account manager, AED registration/EMS notification, database setup, interactive AED management, e-minders and alert notifications, and interactive reporting console. PlusTrac1 is a 1-yr. management program, and PlusTrac5 is a 5-yr. management program.
AED Pro
Provide the ruggedness, portability, and advanced functionality that basic and advanced life support professionals require to improve a patient's chance of survival in critical situations. High-resolution LCD allows professionals to visualize a patient's ECG while utilizing a 3-lead monitoring cable (4EGN9, sold separately), and manual override allows the flexibility a professional rescuer requires. Real CPR Help feature achieves optimum rate and depth of compression levels through audible and/or visual prompts, while See Thru CPR feature enables professionals to view a patient's underlying ECG rhythm. Can withstand harsh environments, including a 1.5m drop test11. Batteries sold separately.