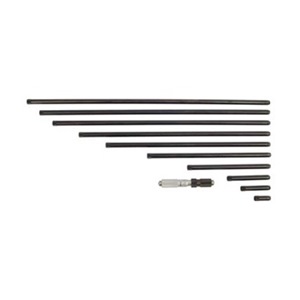 Inside Micrometer, 4 to 40 In
Average Rating:
n/a
$485.10
USD
+ 6 Business Day Shipping $9.10
Purchase at Amazon here:
Inside Micrometer, 4 to 40 In
Specs
Description
Tubular Inside Micrometer, Vernier, Range 4 to 40 In./mm, Resolutions 0.001 In./mm, Number of Measuring Rods 10, Able to Measure Wide Range of Bores Using Different Pipes and Micrometer Head, Includes Fitted Wooden Case
Inside Micrometers
As a 2 point contact tool, use for measuring taper, out of round, bell mouth, and barrel. Positive-locking nut. Coiled, spring-pressure, contact-type rods are marked with appropriate lengths. Include adjustment wrenches and storage case.