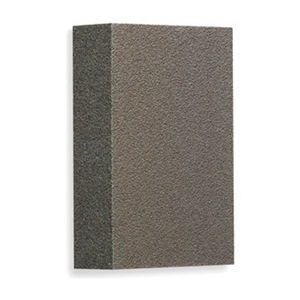 Sanding Sponge, Fine, 4-3/4x3-3/4x1/2 In
Average Rating:
n/a
$2.14
USD
+ 6 Business Day Shipping $7.15
Specs
Description
Sanding Sponge, Sides Dual, Abrasive Material Silicon Carbide, Grade Fine, 220 Grit, Length 4-3/4 In., Width 3-3/4 In., Thickness 1/2 In., Color Gray
Sealer Sanding
Designed for hand sanding primers and sealers between coats on furniture and cabinets. Premium silicon carbide abrasive. Coated on 2 sides.
Abrasive Sponges
Durable coated foam lasts up to 5 times longer than sandpaper and resists tearing. Can be used wet or dry, and can be washed and reused multiple times.