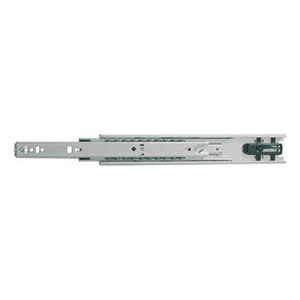 Drawer Slide, Side Mount, Steel, 14, PK 2
C 3832-C14SCD
628845
Average Rating:
n/a
$29.33
+ 3 Business Day Shipping $8.03
Specs
Description
Drawer Slide, Side Mount, Material Steel, Finish Zinc, Height 1.80 In, Side Space .50 +0.031 / -0.0 In, Closed Length 13.78 In, Travel Length 14 In, Extension Type Full, Disconnect Lever, Mounting Type Side or Bracket, Side Mount Load Cap per Pair up to 100 Lb, Package Quantity 2
Steel Self-Closing Drawer Slides, Side Mount
Slides automatically pull the drawer closed when the drawer approaches the closed position; drawer is held firmly in place. Drawers can be pulled out the full closed length of the slide. A lever allows the drawer to be removed from the slides. Load rating is based on 50,000 cycles of a 16"W drawer. Mounting screws included.