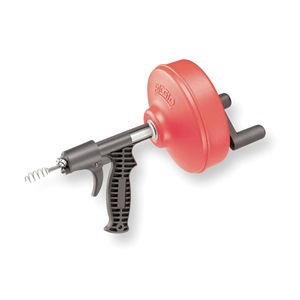 Average Rating:
5
$46.26
USD
+ 3 Business Day Shipping $10.40
Purchase at Amazon here:
Cleaner, Drain, 25 Ft
Specs
Description
Hand/Drill Spun Drain Cleaner, Type: With Autofeed, Drain Line Capacity I.D. (In.): Up To 1-1/2, Cable Dia. (In.): 42008, Cable Length (Ft.): 25, Cable Type: Hollow Core with Bulb Auger Secured By Steel Collar and Thumb Screw, Drum Material: Molded Plastic, Handle Type: Pistol Grip With Trigger For Autofeed, Features: Automatically Advances and Retrieves Cable
Customer Reviews
Average Product Rating:
5
based on 1 reviews
Ridgid Powerspin/88387 Cleaner, Drain, 25 Ft
worth the $
Thursday, April 09, 2009
got this to clear nasty backed up sink. Ran it with cordless drill from trap and a few feet in broke the clog ( hair ). Even if this works one time you made your money back. Also i ordered and i received in one day. Was charged normal shipping not overnight. The fastest i ever got something from internet.
Submitted by

sal b