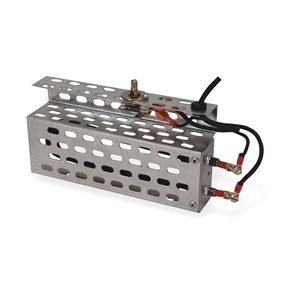 Tubular Enclosure Heater, 250W, 120V
Average Rating:
4
$91.33
USD
+ 6 Business Day Shipping $7.15
Purchase at Amazon here:
Tubular Enclosure Heater, 250W, 120V
Specs
Description
Tubular Enclosure Heater, Thermostat None, 250 Watts, Voltage 120, 1 Phase, Height 3-5/8 In., Length 8-3/8 In., Width 1-9/16 In.
Silicone Rubber and Tubular Enclosure Heaters
Protect enclosures against condensation, humidity, and freezing. Mount heater vertically at the bottom of the enclosure.
Tubular
Corrosion-resistant housing 3-5/8"H x 1-9/16"W x 8-3/8"L Mount via perforated holes in housing
Customer Reviews
Average Product Rating:
4
based on 1 reviews
Tempco EHT00033 Tubular Enclosure Heater, 250W, 120V
Tempco EHT00033 Heater
Monday, October 25, 2010
There should be a statement exclaiming that this unit does not come with the wiring or control device as pictured. At least it has the screws on the terminals. The heating element on mine was not centered in the enclosure and would have touched against the wall of the box I'm installing it into, but slightly bending the bracket corrected that.
Sturdy construction.
Include everything pictured.
Submitted by

cadum61