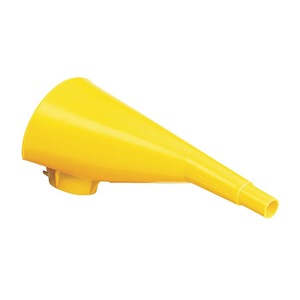 Funnel, 9In.X1-1/8In., Yellow
Average Rating:
n/a
$9.28
USD
+ 6 Business Day Shipping $7.15
Purchase at Amazon here:
Funnel, 9In.X1-1/8In., Yellow
Specs
Description
Funnel, Material Polyethylene, Length 9 In., Spout Outside Dia. 1-1/8 In., Yellow, Standards FM, For Use With Type I Safety Cans
Type I Safety Cans
Safety cans with leaktight, self-closing spouts provide temporary storage of flammable liquids such as gasoline (red), kerosene (blue), diesel (yellow), and oil (green). Automatic vent feature protects against rupture or explosion, and flame arrestors protect contents from external ignition sources. Galvanized steel models feature an ergonomic, all-steel handle and chemical-resistant, high-gloss powder-coated finish. High-density polyethylene cans are impervious to many liquid chemicals, solvents, and corrosives.
Meet OSHA and NFPA Code 30 standards CARB compliant
Funnels For Type I Safety Cans
Polyethylene funnels fit Type I cans. 3AG33 features a 2-position hinge that allows user to fill or pour without removing the funnel. 3NJY5 includes a bolt-on attachment and galvanized hose to help pour into small openings. 6X853 self-locks and is FM approved.