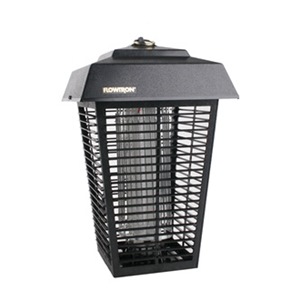 Average Rating:
5
$141.16
USD
+ 3 Business Day Shipping $14.30
Purchase at Amazon here:
Insect Killer, 80 Watt
Specs
Description
Insect Killer, Electronic, Residential Lantern Style, Coverage 1 1/2 Acres, Black Light 80 Watts, Height 19 Inches, Width 11 1/4 Inches, Depth 11 1/4 Inches, Outdoor Only
(H) Lantern Style
Electronic Insect Killers
Safely destroy mosquitoes, moths, millers, gnats, flies, and mites without using chemicals. 120VAC required. When present, killing grids have 5600V at 9 mA. Use Supplemental Fly Lure strip 4LV49 (sold separately), to lure and kill flies during daylight hours.
For outdoor use only. Electronically charged, self-cleaning vertical rod grid disposes of insects. Weatherproof polycarbonate top and body; heavy-duty transformer. 2W545 covers 1 acre. 2W579 covers 1.5 acres.
UL Listed (E51021) and CSA Certified (LR88967).
Customer Reviews
Average Product Rating:
5
based on 1 reviews
Flowtron BK-80-D Insect Killer, 80 Watt
Would recommend if you need to get rid of flying insects
Saturday, April 19, 2008
This bug killer is great. It has not only helped eliminate the flying moths, but has helped get rid of the European Hornets which look like huge yellow jackets that fly around both day and night. We had a problem with them hitting the windows at night trying to get into the house. When they did make it through the door, when someone was coming in the house it was panic for everyone inside as one of our family members is highly allergic to bee stings. The dead insect parts underneath the BK-80D is well worth the money and makes me smile. I would recommend it to everyone. It does require you to change the light bulbs every season as they do burn out after several months of continuous use. Thank you Flowtron for making a product that does what it says it will do. Yeah!
Does what it is suppose to do ~ kills flying pest.
Seasonally need to change the bulbs.
Submitted by

Dorothy C.