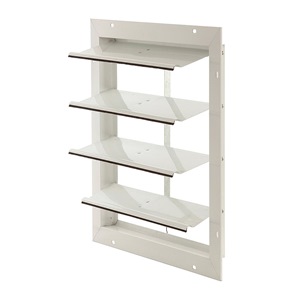 Fan Shutter, 16 In, White Painted Aluminum
Average Rating:
1
$62.66
USD
+ 6 Business Day Shipping $9.10
Specs
Description
Gable Shutter, Gravity Operated, Single Panel, Fits Fan Dia 16 In, Opening Required 17 X 17 In, Length 19 In, Width 19 In, Frame Depth 1 7/16 In, Open Depth 5 1/4 In, Flange Width 1 1/2 In, Free Area 1.402 Square-Ft, Max Velocity 1500 FPM, Vertical Mounting Position, Blade Material White Painted Aluminum, Extruded Aluminum Frame and G-90 Galvanized Tie Rod, For Use With Gable Mounted Power Attic Ventilator
Gable Shutters
Designed for use with gable-mounted power attic ventilators, including most on this page. Aluminum construction. Flush mount for easy installation. Automatically open when ventilator is running. Weather stripping on blades for positive seal when not in use. Tie rods on blades assure uniform opening while fan is operating.
Max. velocity: 1500 FPM 1-1/2" flange
Customer Reviews
Average Product Rating:
1
based on 1 reviews
Dayton 4YN20 Fan Shutter, 16 In, White Painted Aluminum
Avoid this product!
Monday, June 23, 2008
I purchased these shutters to go with a Broan 35316 gable fan. When I went to install it, I thought the contractor had not made his opening square, but when I checked it's actually the shutter that's out of square by about 1/4 of an inch on the diagnols. That's not even good by rough carpentry standards for that size hole. I was also surprised at the big gaps in the miters, which continue through the frame. This means that water that drips off the shutters could flow back into the attic. It's possible to seal this with caulk, but not easily since it can't interfere with shutter operation. Even though I've already purchased this and installed it, I'm considering replacing it if I could be sure the replacement unit was of better quality. I would give this a zero rating if I could.
It's white which matches my house color
Cheap, flimsy, out of square, isn't weather tight
Submitted by

Danny Cecil